High Performance Luminous Batteries for Inverter Application
1. Luminous Electra Flat Plate Battery: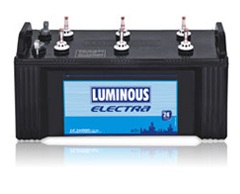 Features
Extra thick plates
Special alloy used
Inter partition connection
Sleek appearance in sealed plastic housing
Very good charge acceptance
Level indicators
Applications
These batteries are best suitable for high ambient temperature and partial state of charge usage, they are used in various applications like domestic Home UPS, off grid solar photo voltaic system, home lighting systems, alarm systems, signaling equipments and remote telecom units.
2. Luminous Electra Tubular Battery: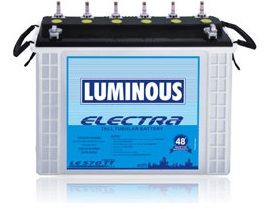 Features
Unique patented alloy composition
Void free, uniform grain structure
Extremely high purity, corrosion-resistant proprietary spine alloy
Proprietary spine design ensures uniform distribution of positive active material
Extra-strong, flexible oxidation-resistant gauntlet
Highly puncture-resistant DARAMIC-USA separator
Equally spread positive active material
Better and quick charge acceptance
Designed to have a life of over 1250 cycles at 80% Depth of Discharge (DOD)
Applications
UPS Systems, Telecommunication Systems, Office Automation Equipment, Fire Alarm Security Systems, Electronic PABX Systems, Cable TV Equipment, Electronic Attendance, Cash Registers, Process Instrumentation & Control, Power Plants & Substations, Cellular Phones & Pagers and PCO Monitors.
Download Electra Catalogue – http://www.luminousindia.com/templates/lum_home/pdf/ELECTRA_FLAT_PLATE.pdf
Visit Luminous India Website – http://www.luminousindia.com/